Summer is around the corner. Now through April 30 you can get amazing deals on RV accessories during our RV inventory blowout sale.  We're offering great deals on items that promise to make your RV life easier. Check out a snapshot of some of the great deals below.
Getting the dishes done right is only possible when you have all the necessary accoutrements. This sink kit comes with a dish drainer, dish pan, and a sink mat. The neutral white color will fit any decor. And the low, low price of $17.89 will fit any budget! These actually work great in homes too. Pick one up to send with your kiddo when they leave for college in the fall and for your RV.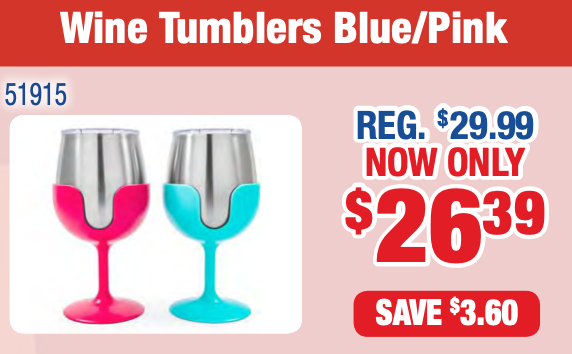 Nothing beats a great wine while you're hanging at the campsite, but traditional wine glasses break so easily. These wine tumblers let you enjoy your wine without worrying about breaking the glass. plus, because they're thermal they promise to keep your wine cool on those hot sum mer days. These make a great gift for the RVer in your life. Buy one for yourself and one for a friend!
This ProTec Rubber Roof Kit helps you clean and protect your rubber roof through its unique 3-step care system. At only $44.69 you're saving $6.10 and will be on your way to a cleaner roof. Stock up so you can have some to use throughout the season and before you winterize. Remember to talk with our parts team to see what the two other steps are in this 3-step care system.

Life is better at the campsite, wouldn't you agree? You need one of these fun scrub rugs to cut down on dirt tracked into your RV and share your love RVing with all who cross yoru RV's threshold. Save $2.40 now. Buy one for your house and one for your RV!
If you're interested in learning more about selection of RVs for sale or items available during our inventory blowout sale, contact us. We can answer any questions you have and make sure you have the information needed to make the best selection for your needs. We can also assist with RV financing.