Looking for a fifth wheel but not ready to buy new? Visit Us at Bullyan's RV and choose the perfect used fifth wheel from our Used Fifth Wheel Blow Out Event. We have 36 pre-owed 5th wheels in a wide range of prices, floorplans and sizes. This is the chance you've been waiting for to get into a quality RV at a low blow-out price!
With fifth wheels starting as low as $5995 like this 1996 Sportsmen by KZ, they are sure to move fast. These coaches are comfortable and clean, ready for a new home.
Big and small, older and newer, and everything in between, we have just what you're looking for. This 2004 Nomad North Trail is a great example of a mid range fifth wheel at a steal of a price at $9,995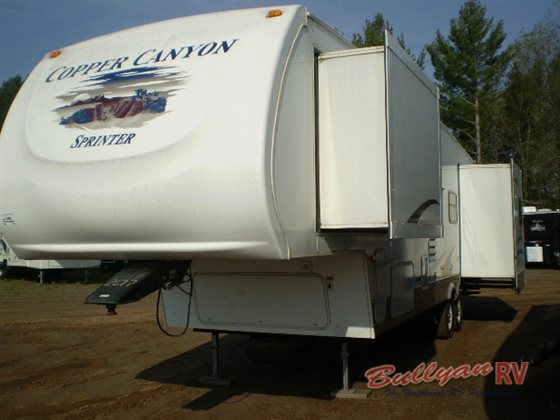 Looking for modern amenities in a more spacious coach? No problem! We have plenty or newer used fifth wheels, as well! Top RV brands such as Sprinter, Montana, Jay Flight, Eagle, Cougar, Denali, Landmark and more are marked down to prices made to move.
Finally, your chance to purchase a quality used RV is here at Bullyan RV We have the lowest prices in Minnesota on all our pre-owned RVs. Our selection can't be beat!
The best used inventory moves quickly, especially when priced this aggressively. Unlike new RVs, used are one of a kind. That's why it's important not to wait, so you can take advantage of this special opportunity to get the perfect used fifth wheel you've been waiting for.
Contact Us for a tour of all the amazing Used Fifth Wheels Deals we have to offer. Or Visit Us at Our Location and one of our experienced RV specialists will help you find just the right fifth wheel at just the right price.