As soon as you lay eyes on the Winnebago Adventurer 38Q Class A motorhome, you will immediately see that it is in a class all its own. The exterior offers many full-body paint options, aluminum wheels and chrome accents to give it a sleek and desirable design. However, there is much more on the inside of these RVs that are sure to take your breath away as soon as you cross the threshold.
This particular Winnebago Adventure model is thirty-eight feet in length, making it the longest option available. This, plus the inclusion of three different slideouts, means it will come with more interior floor space for everything you could possibly want. Take the living room for example. This space will have multiple seating options such as a reclining lounge chair, an extendable sectional sofa, and cab seats that can spin 360 degrees to become part of this space. With this many options, you will have a spot for everyone to enjoy watching television or sitting by the fireplace.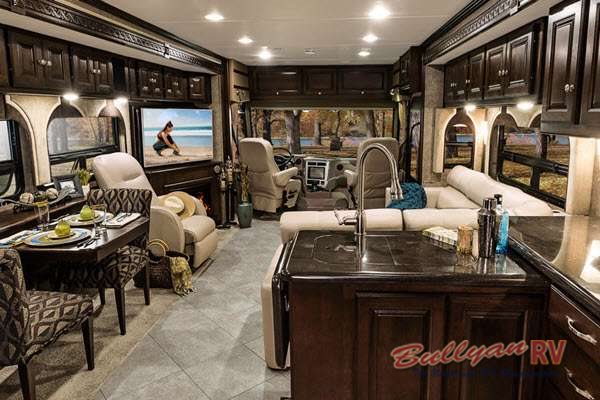 The Adventurer 38Q motorhome will also have upgrades in many of the electronics included. For example, each model will come complete with a Blu-ray home theater sound system to maximize the entertainment features, a powered patio awning lined with LED lighting to make sitting outside more enjoyable, and a TrueAir maximum comfort air conditioning system that will keep you comfortable no matter where you are or what the weather is doing.
Every inch of the Winnebago Adventurer 38Q Class A motorhome is meant to make your life easier, and with the added features, beautiful décor, and quality materials both inside and out, it will truly represent luxury on wheels. If you are ready to start living largely while out on the open road, you can contact us or come to our location to take a look at these motorhomes for yourself. Then, you are sure to feel right at home anywhere you go in your Winnebago Class A camper.