The TAXA Outdoors Cricket is a fun and funky travel trailer that was designed to appeal to those who enjoy boondocking or just getting out and enjoying the great outdoors with some added amenities, while still feeling like they're tent camping. Learn more in our TAXA Outdoors Cricket Review.
Impressive Storage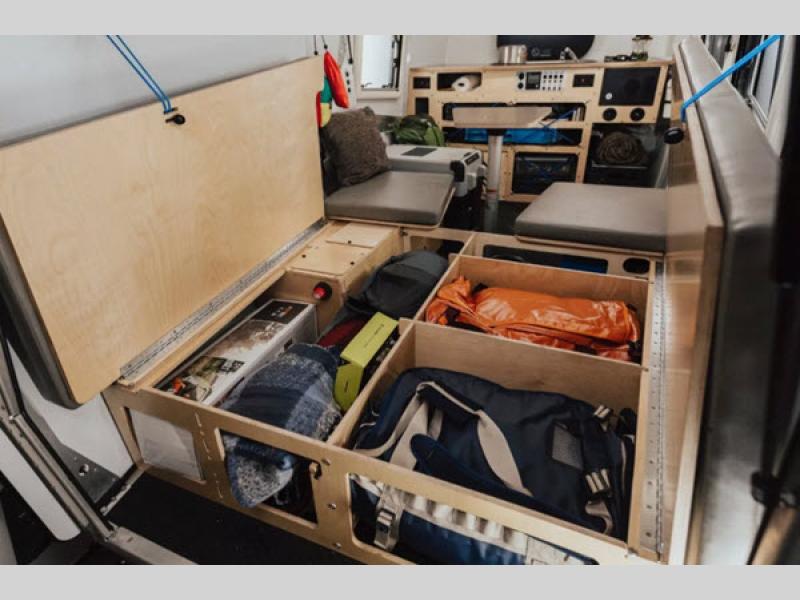 The Cricket's storage is one that will impress even the biggest packrat. You'll love how storage has been managed to be packed into a smaller RV, thus easily accommodating your favorite camping items without cutting into your living space. From under the bed (a whopping 16 cubic feet of storage!) to throughout the kitchen, you can't go wrong with Cricket.
Comfortable Sleeping Arrangements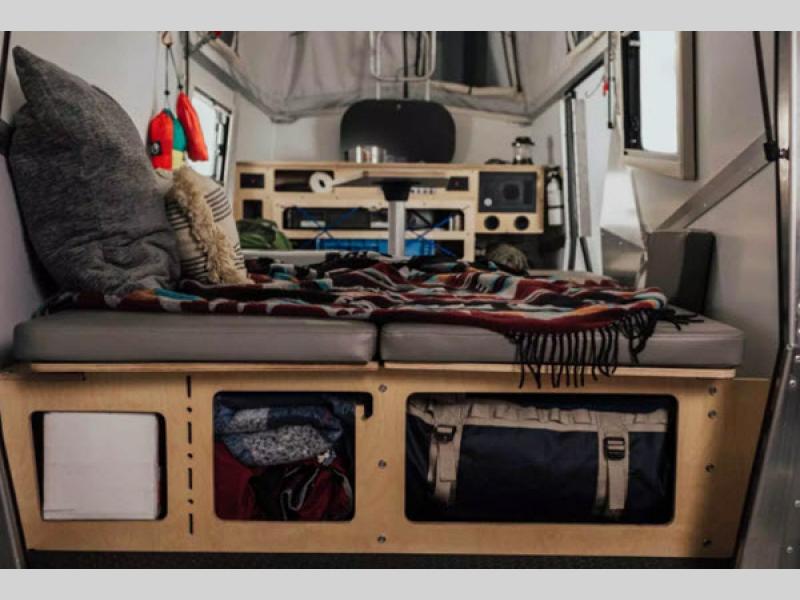 A great night's rest is just a step away in the Cricket. You'll love the plush full size bed that provides you with the perfect place to rest and relax at the end of the day.
Practical Kitchen
The Cricket's kitchen features a minimalist design that offers everything you need to cook up delicious food. With the option to add a small refrigerator, as well as a standard 2-burner stove and sink and large 15 gallon fresh water tank, every aspect of this kitchen was designed to be practical and useful. So pop a couple cans of your favorite soup on the stove or cook up some pan fried fish that you caught that day. Whatever you do, you'll love having Cricket there to make it possible.
Features:
15 gallon Fresh & 16 gallon Grey Water Tanks
Dometic® Combo 2-Burner Stove & Sink
Truma® Combo Furnace & Water Heater System
Exterior Shower with Hot and Cold Water
Liquid Propane (2@20 lb) Tanks with Cover
Birch Plywood Kitchen with Modular Storage
Large Cafe Table (32″ x 19″)
Additional Options:
Portable Toilet
THULE® Load Bars
Kid's Berth (one)
15" Spare Tire
Kid's Berth (two)
5000 BTU Window AC
Soft Good Package (Awning, Screen Door, Shower Tent)
Truma C36 Single Zone Portable Fridge/Freezer
Interested in learning more about our selection of TAXA Outdoors Cricket RVs for sale? Contact us. We'll answer your questions, walk you through units, and ensure you have the information needed to make the best decision for your needs. We can also assist with RV financing. Affording your dream RV has never been easier.