COVID has changed a lot of things. More and more events are going virtual and that includes the 2020 Winnebago reveal. Now is your chance to watch the reveal from the comfort of your home. During this reveal you'll see the latest lines of Winnebago RVs, including travel trailers, luxury motorhomes, and high-end fifth wheels.
Everyone is invited to join us virtually for the virtual lineup reveal. Learn about these impressive RVs, see what new features are being debuted, and maybe be inspired to add one to your Christmas list.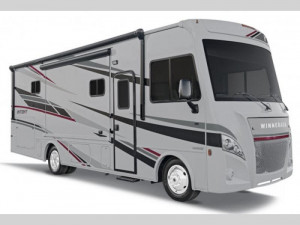 Join us at 1pm EST on November 18, 2020, for Winnebago's Impressive Virtual Lineup!

The 2020 Virtual Reveal Will Explore The Following:
Design and Styling
Discover how Winnebago ties neutral color palettes and sophisticated designs into the ideal living area that has personality, but can still be made your own. Every Winnebago RV comes with stunning interiors that speak to the calming, peaceful lifestyle of RVing. They're not bland or boring like other models, yet still give you a chance to get creative and put your own touches on the RV to make it your own.
Latest Models and Floorplans
Winnebago will be premiering their all-new vehicles, updated floorplans, and impressive new features that you will be excited to get your hands on. If you're looking at purchasing a new Winnebago, you must attend this event to see all the features that are sure to make life on the road a little easier and bring joy to you throughout your adventures.
Offroading + Boondocking
Offroading and boondockings are more popular than ever. After all, social distancing is super easy when you can get away from everywhere, including campgrounds. From on-demand 4WD to solar power and functional storage, find out how #vanlife and off-road adventures are more possible with Winnebago camper vans.
If you're interested in learning more about our selection of Winnebago RVs for sale, contact us. We can answer any questions you have and make sure you've got the information needed to make the best decision for your needs. We can also assist with RV financing, so affording your dream RV is easier than ever.