Destination trailers are a fabulous option for those who plan to be snow birds or want to park at a particular area for an extended period of time. These are classified as RVs because of their size, however, they aren't as easily towed and are intended to be long-term housing wherever they are placed. You'll love how these RVs offer the comforts of a traditional home in the convenient and towable style of an RV.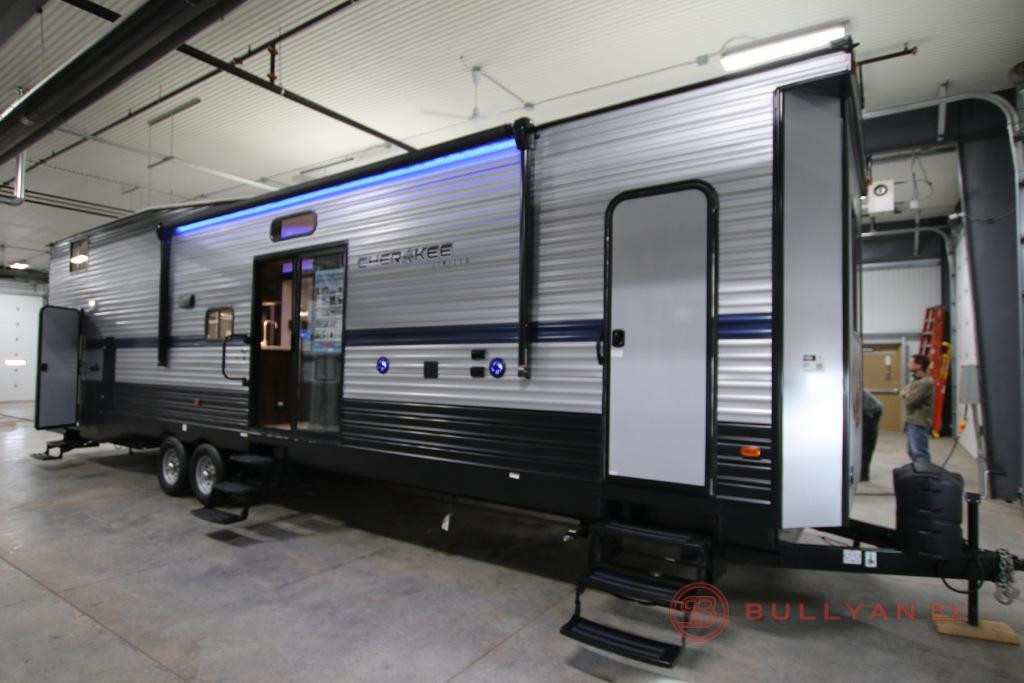 With room for 10, this impressive destination trailer is ideal for large families or even grandparents who plan to have family down for visits throughout the year. The shining feature of this RV is that it boasts two full baths, which makes it ideal for comfortably accommodating large groups. You'll never have to worry about lines forming outside of the bathroom and, even better, adults can have their own space away from the kiddos.
The large loft with mats offers a great place for the kids to relax and unwind, while two separate bedrooms provide private areas for adults to rest. The dual entry allows for smooth flow of traffic and a walk-in pantry provides tons of space to store your favorite foods.
Features:
Two Full Baths
Loft with Mats
Walk-In Pantry
Dual Entry
Two Bedrooms
With room for 8 this floorplan is a fabulous option for families. The separate living area offers a lovely place to play games, watch movies, or just hang out, while the loft with two mats is the perfect place to unwind and enjoy some much needed rest and relaxation. You'll love the large front kitchen that provides everything you need to whip up insanely delicious meals without feeling cramped.
Features:
Loft with Mats
Stairway
Front Kitchen
Free Standing Dinette
Separate Living Area
Two Chairs
Interested in learning more about destination trailers? Contact us to speak with our sales team and learn how we can help you find the best floorplan for your needs. We can also assist with RV financing, which makes affording your dream RV easier than ever.