Are you are looking for a truly amazing travel trailer that is both compact and lightweight as well as versatile and comfortable? You've found it in the Forest River RV No Boundaries travel trailers for sale in Minnesota at Bullyan RV. These dynamic travel trailers are filled with the features and amenities that you will absolutely want on your next road trip. The No Boundaries travel trailer is perfect for the avid outdoorsman with plenty of features to make it easy for you to take your fishing gear or snowboarding gear to your favorite destinations. Want to learn more about some of those features? Check out our No Boundaries travel trailer review to find out more of what makes this a favorite travel trailer here at Bullyan RV.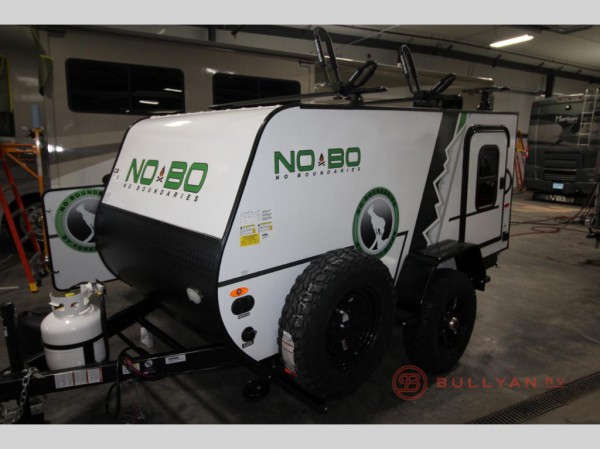 Standard Features
In every No Boundaries travel trailer, you get a wide assortment of amazing standard features — gear and amenities that will be the same across all models. This means that there are a few qualities of the No Boundaries that will be the same no matter what! Things like the LED lights illuminating the entry step and 2-burner cooktop in the galley. Want to see more of what you can expect in a standard No Boundaries travel trailer? Here are some more of our favorite features:
JBL FLIP 4 Portable Bluetooth Speaker Featuring Exclusive Custom Cradle Mount

Complete Interior/Exterior LED Lighting PKG

1000 Lumen Amber/White Scare Light

Tempered Seamless Panoramic Front Window (where applicable)

Lightweight Ply Countertop Material

Stainless Steel Utility Hooks

Bottle Opener

Avalanche Cooler (10.5 and 10.6 Series Only)

Matte Satin Nickel Appointments (where applicable)

High Performance Vinyl Seat Cushions and Backs

Stainless Steel Sink (where applicable)

Blackout Shades

Xtreme Ply Roof Material

USB Charging Station

Fuji White Exterior Lamilux 1000 Fiberglass Shell Featuring Satin Matte Graphics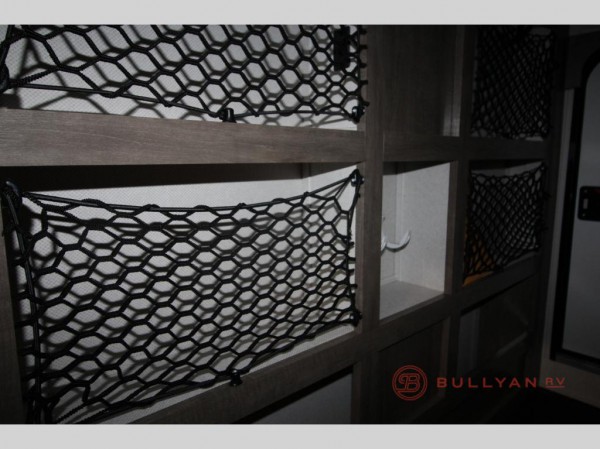 Optional Features
You also have the option to go with a floorplan that offers some other features that are customizable and specific to your exact preferences. Things like stainless steel convection ovens, 28" LED televisions, and so much more! Check out some of the other optional equipment that you can expect in the No Boundaries travel trailer:
Power Tongue Jack w/LED Light

Hybrid Single Bike Carrier (Rhino Rack #RBC050)

Snowboard/Ski/Fishing Rod/Paddle Holder (Rhino Rack #573)

Wheel Step/Seat (Rhino Rack #RWS) One std. in Overlander Pkg.

J-Cradle Kayak Holder (Rhino Rack #S510) One std. in Overlander Pkg.

Nebraska State Seal

Canadian MVSA (Required in ALL Canadian Provinces)

Canadian Standard Z240

Overlander Package FREE for 1st Model Year (10 & 16 Series Only)

Standard RVT Track (Rhino Rack #RTV148)

Two Vortex Bars (Rhino Rack #VA180B)

J-Cradle Kayak Holder (Rhino Rack #S510)

Wheel Step/Seat (Rhino Rack #RWS)

16" Satin Matte Finish 6-Lug Wheels Wrapped in Cooper Discoverer Tires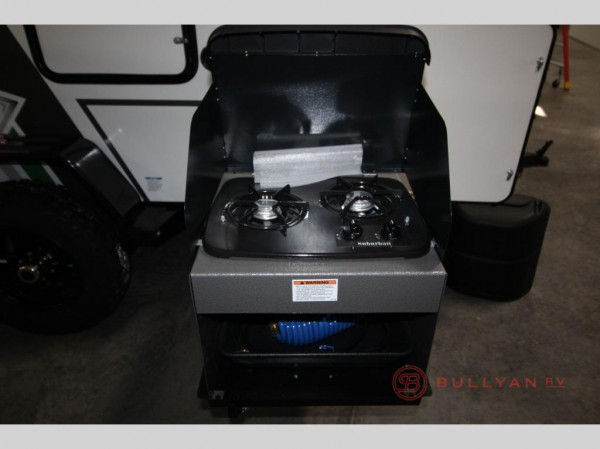 If this sounds like the kind of RV that you have been looking for, you absolutely need to check out the wide variety of No Boundaries travel trailer floorplans that we have here at Bullyan RV. We are dedicated to providing you with the best quality of service, so make sure that you contact us today with any questions that you may have. We can't wait to help get you into the No Boundaries travel trailer of your dreams!