If you're looking for a great camping recipe, get your day started off right with this delicious and hearty breakfast. It's easy enough to make while camping, but we're pretty sure you'll make it again and again at home, too!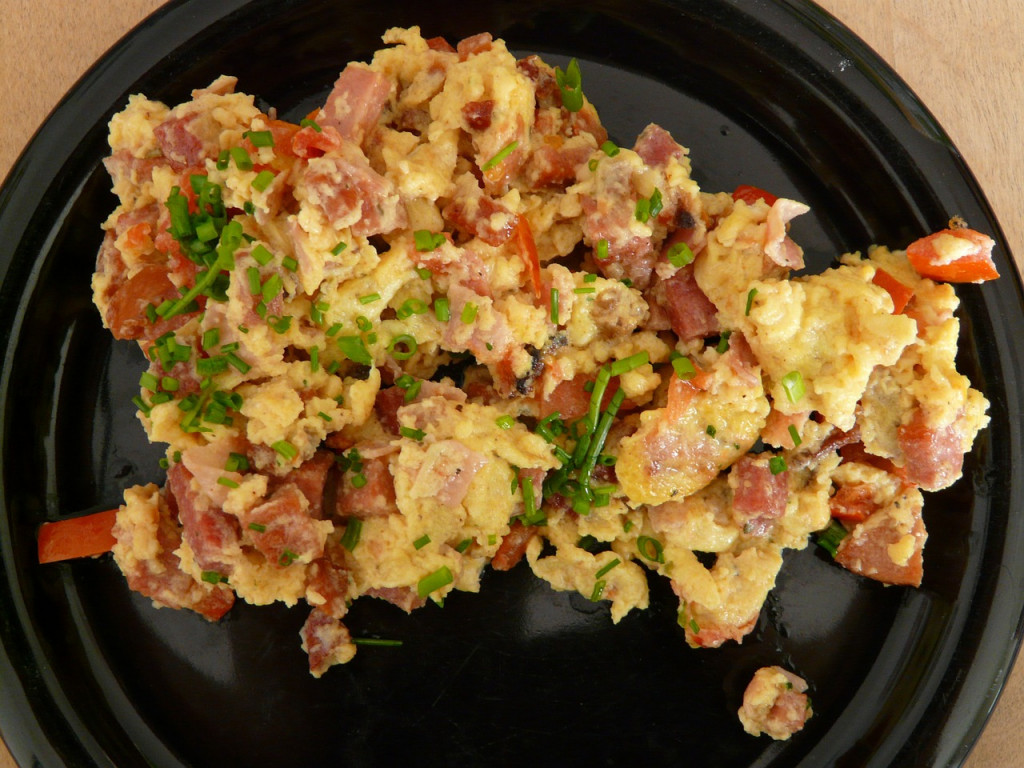 Scrambled Breakfast Hash
Ingredients:
6 oz. bacon
4 red potatoes
1 onion
OR: replace potatoes and onion with one 10 oz bag of frozen potatoes O'Brien
4 eggs
1 cup shredded cheddar cheese
salt & pepper
2 Tbs chives (optional)
You'll also need:
Dutch oven
Spatula
Knife
Cutting board
Directions:
Dice bacon and fry in Dutch oven over medium heat. Alternately, fry up full bacon pieces and crumble them once finished.
Once crisp, remove bacon pieces from Dutch oven and drain on paper towels.
Dice potatoes and onion while bacon is cooking. If using frozen potatoes O'Brien, skip this step.
Once the bacon is cooked, pour off most of the grease, reserving a few tablespoons. Add potatoes and onion or potatoes O'Brien into the reserved bacon grease, seasoning with salt and pepper to taste.
Keep the lid on the Dutch oven lidded while the potatoes cook, stirring every once in awhile to prevent sticking. Cook until tender.
Scrape potatoes to the side of the Dutch oven, and crack eggs directly into the free space. Whisk and scrape with spatula to scramble the eggs.
Once the eggs are scrambled and fully cooked through, return the cooked bacon to the Dutch oven. Add cheddar cheese and stir to combine the full mixture. Sprinkle with chives, if using, and serve warm.
Alternately, if you don't prefer the mess of cooking bacon, substitute in 3/4 cup diced ham. You'll need a little cooking oil to cook the potatoes, but it's a great substitution!
This is a versatile camp recipe to use while you're enjoying the great outdoors in your new or used RV – and using the frozen potatoes can really save you some time and food prep! Contact us today if you need help picking out the perfect RV for your family!