SylvanSport GO Adventure Trailers
View SylvanSport Go Inventory
Go Play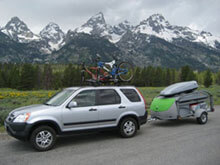 Let's GO, GO, GO! Grab your trailer and hit the high road to adventure. Your Mobile Adventure Gear makes it easy to pack and pull, so let's do just that.
This page contains links to help you plan your next vacation. The places your GO can take you are only limited by your imagination and desire to explore.
Check out our Events page to find festivals, races and events we'll be bringing the GO to. It's a great opportunity to get an up close and personal look at a GO!
How do YOU go?
At SylvanSport they pride themselves on their creativity and ingenuity. The same can be said for many GO owners, who customize their highly adaptable GOs in plenty of creative, useful ways.
Now SylvanSport would like to invite you, the GO owner and fan, to submit your customization ideas and experiences. Share your stories on Facebook and they'll share them with the world.
Fun Links for travel and sports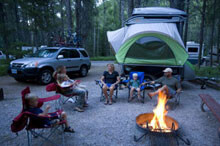 Find a State and a National Park to visit next. National Park Service
Your on-line guide to outdoor recreation. www.wildernet.com
The largest provider of campsite reservations in North America, and a great place to start when planning a camping trip. www.ReserveAmerica.com
Membership access to guide books and topo maps for hikers, bikers, kayakers, campers and more. www.trails.com. Mountain biking your thing? There is no better source for maps, reviews and more than Singletracks.com.
Planning to visit one (or more) of the amazing National Parks, here in the US? Check out the National Park Service site to help you plan. What about National Parks in Canada? Check out Parks Canada - The National Parks of Canada site.
Always keep an eye on the weather, for weather reports with detailed radar, check out Accuweather.com
We're sorry. We were unable to find any results for this page. Please give us a call for an up to date product list or try our Search and expand your criteria.